Unleash Your Potential with Mixed Martial Arts (MMA)
Welcome to Fight Prime Training Center's MMA program, where you'll discover the ultimate fusion of disciplines, strength, and determination. If you're ready to challenge yourself, build exceptional athleticism, and develop a comprehensive skillset, our MMA classes are tailor-made for you.
Elevate Your Skills with Versatility
MMA isn't just a sport; it's a dynamic blend of techniques from various martial arts. From striking to grappling, you'll learn to seamlessly transition between styles, empowering you with unmatched versatility and adaptability.
A World-Class Workout
MMA training is intense, delivering a full-body workout that burns calories, builds muscle, and enhances endurance. Whether you're honing your technique or sparring with fellow enthusiasts, each class pushes your limits and transforms your physique.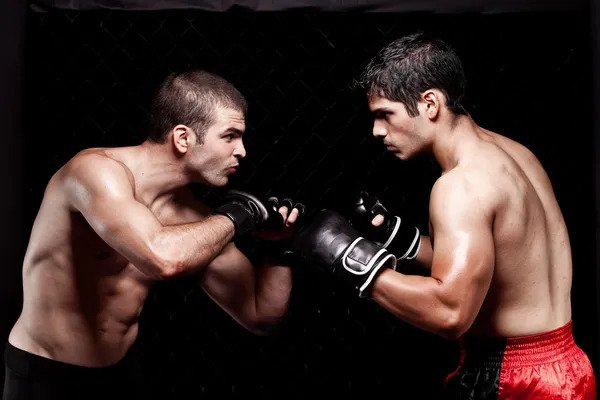 Realize Your Competitive Edge
If you're a competitor at heart, MMA provides the perfect arena. Train with active competitors who have a proven track record of success. Gain insights from seasoned athletes and elevate your skills to a level that stands out in the ring.
Join the MMA Community
Forge Unbreakable Bonds
In our MMA classes, you're not just another member; you're part of a community driven by shared goals and mutual support. Training partners become friends who push you to achieve your best, both inside and outside the gym.
Top-Notch Facility for Top-Notch Training
Our training center is your training sanctuary. Clean, well-equipped, and designed for optimal performance, it sets the stage for your MMA journey. From striking bags to mat space, we provide the tools you need to excel.
Passionate Instructors, Unmatched Expertise
At Fight Prime, MMA isn't just a discipline; it's our passion. Our expert instructors, including seasoned competitors, are dedicated to nurturing your skills. They'll guide you through the intricacies of MMA, ensuring you reach your full potential.
Become Part of Our BJJ Madison Family — Support and
Motivation for Unstoppable Success
Every form of martial arts is different. However, Jiu-Jitsu is one of the only ones that you simply can't practice alone. You need a partner. You need a team. You'll form an unwavering bond with everyone you practice with. You'll support each other – and push each other past any limits you think you have. With your team on your side, you can (and will) accomplish anything.
Safe, Clean Facility
We work hard to make sure our MMA Madison classes are safe and hygenic. That means DAILY top-to-bottom cleaning and up-to-date equipment.
Passionate Instructors
Fight Prime is not a club. We're a premiere Academy that focuses on developing life-long students. MMA isn't our "hobby" – it's our lives 😊.
Community
Whether you're a pro, a noob, or somewhere inbetween – you'll get just what you need from these classes. Everyone is supportive and dedicated to keeping the team atmosphere alive. You'll fit right in, we promise.
Our Members Speak Out
Life-Changing Results:
"Best Shape of My Life – I Feel Unstoppable"
I started training here about a month ago. I'm 40 y/o and had zero martial arts experience. Within that single month I've gained confidence, some personal discipline and I'm in the best shape I've been in since my early 20s. 
The instructors are friendly, knowledgeable and genuinely care about the people putting their time/money into training. I can't recommend this BJJ Madison Academy enough. Walking through the door and giving them a chance was the best decision I've made for myself in a long time.
"There's a reason all the pro fighters know Brazilian Jiu-Jitsu…"
Okay, let me start by saying I don't want to be a pro fighter or anything. I just say that because there are some guys here who do – and I know they'll get there too. The instructors are just that good.
I just wanted to have fun, get an awesome workout, and learn some of the kick ass moves I see in the UFC. 😉 Okay, so I'm half-joking, but seriously, I wanted to learn self-defense, and after seeing so many UFC guys use BJJ so effectively, I knew this is what I needed.
I've learned so much already. Like I said, I don't want to be a pro fighter, but I can feel that black belt getting closer and closer, and I can't wait until the day I'm wearing it to class.
"I just got my blue belt, and DAMN it feels good!"
I don't know if I've ever worked so hard to accomplish anything in my life. I just got my blue belt after 12 months, 1 YEAR, of hard work. I honestly feel on top of the world.
The fact that going from white belt to blue belt takes such practice and determination makes it so much more special when you finally get there. And when you show up to class in your blue belt, all the white belts know what's up 🙂
After just a couple months I noticed I was stronger and more athletic. People at work have been asking me what I do to get in shape!
"As a woman, I was scared to join at first. If I'd known how great this is – I would have joined years ago."
I was nervous going into a class where 95% of the students were guys. BJJ can be very up-close and personal. I was scared about getting crushed, and feeling uncomfortable being that close to total strangers.
Well, let me tell you, after the first few minutes of my first class, I forgot all of that! First off, everyone at Fight Prime is super nice and friendly. Everyone was so supportive and want to get better and have fun. Second, when you spar with people, they'll go at your level.
Higher belts and experienced students aren't gonna go all out on you. They'll support you and help you get better. Don't avoid taking BJJ Madison classes just because you're a lady! Trust me, it's awesome! And you'll lose some pounds too. A nice added bonus.
Frequently Asked Questions:
Start Your MMA Journey
Frequently Asked Questions

Who Teaches MMA at Fight Prime?
Our MMA classes are led by experienced instructors with a background in various disciplines, ensuring a well-rounded training experience.

Where is Fight Prime Located?
Our MMA classes are taught at the following address:
1820 S. Park St, Madison WI 53713
The facility is just off the beltline's Park St. exit. That's a 15-20 minute drive from Madison, Fitchburg, Middleton, Oregon, Monona, Stoughton, or Verona, WI. See the draggable map below for details:
Fight Prime Training Center

How much do Fight Prime's classes cost?
We offer flexible membership plans and exclusive specials. Contact us to learn more about pricing options.
Schedule a trial lesson with us by calling 608-665-2155 or sending us an e-mail.

Is MMA Safe?
Safety is paramount. Our structured approach to training, under expert supervision, minimizes risk and fosters a secure environment.

Do I Need Prior Experience?
No prior experience is necessary. Our MMA classes cater to all skill levels, from beginners to experienced practitioners.
Embrace the Challenge Today
Are you ready to embark on an MMA journey that transforms your body and mind? Join our dynamic community, learn from the best, and discover the potential within you. Don't miss our limited-time web special offer – fill out the contact form now to start your MMA adventure!